Photographer: V 01 (cc)
Today is the day. I, V 01 will start my garden. YES WORLD I WANT TO BE A GARDENER. And this time I mean it.
I feel like an addict (addicted to the idea of gardening and not actually gardening). I have been saying I am going to garden, for almost 20 years (pathetic I know). I have had a few false starts, but this is actually the closes I have ever come to actually starting. Of course first and foremost, I had to pick out a visually appealing location. An area of the yard I could gaze at often. I am very visual and half the fun of gardening would be watching the thing become more beautiful with each passing day. Or maybe in my case, watching it wither, dry up and blow away. Oh lets hope not. Come on Green Monkie Juice, its time to pay off. (lots of images after the jump)
Like I said, I picked out a beautiful little area just outside my bedroom patio door. The size of the area has to be at least 800 square feet. The entire future garden is surrounded by trees. Giving it some shade around the edges and full sun in the middle. Here is the catch, I actually just moved to the desert (South California), so this maybe a little tricky. The soil is all sandy and doesn't seem to like to hold very much water. And unfortunately I no longer have composting worms. (will work on changing that very soon) Which means I don't have a great source of free highly enriched compost. And if that wasn't enough, I basically have no idea what I am doing. I know sad. So, here is what I have decided to do. Find someone to help me, guide me or least find a good book. I will keep you posted on all that.
Even though I am completely not ready (mentally to start) I did go out and went a little crazy buying up a $165 worth of seeds, pots, organic starting potting soil, soaker hose, tiller and the seed starting trays. I don't even know if I even need all that stuff. I just like the look of it. The main questions I need to answer are: Can I create an in-expensive permaculture garden? Is it already too late in the season to start, (it's mid June 2010). And the big one, can I grow a garden in the Desert at all? I just moved into a 1950's updated bungalow on about 1/2 acre of land. I am slightly up on a hill and there is tons of native or desert type plants already growing here, but the only editable plant is a lonely Grapefruit tree. It's huge, but only has a single fruiting branch. Is that normal?
Over the next few weeks, I will be making videos, creating some interviews with experts and maybe if I am lucky get a few people out here to give me some hands on help. Below are some photos of the area, as it is now. The starting point. Also, I have included one of the most inspiring permaculture videos I have ever come across. It's about this guy named Sepp Holzer. It looks like the video was made in the 80's but thats fine, because this guy is amazing. If I could be just maybe a mini version of him, that would really make my life. :) When I say mini, I don't mean size wise, I mean his talent to grow things, I already got the mini size thing down.
Sepp Holzer | Mountain Permaculture Pioneer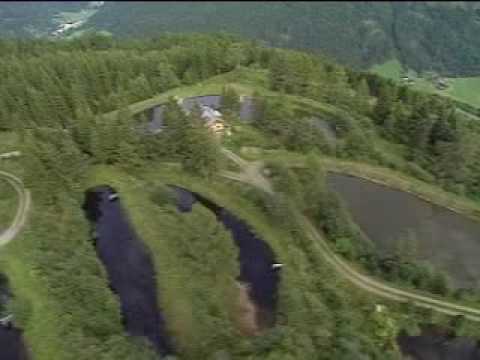 Wikipedia Josef Holzer (also known as Sepp Holzer, born 24 July 1942) was born in Ramingstein, Austria. Coming from a line of farmers, he took over his parents' business in 1962 and started applying ecological farming methods after being unsuccessful with the regular farming methods on his difficult land. Forty-eight years later he is still working on the same land according to his "Holzer Permaculture". His expanded farm now spans over 45 hectares of forest gardens, including 70 ponds, and is said to be the most consistent example of permaculture worldwide. You can learn more about Seep Holzer on his site krameterhof.at
Permaculture is a design-based approach to practical sustainability, using systems thinking and approaches that combine regenerative ethics with ecological principles to create ssutaianble environments. Permaculture was developed in teh sub-troics (Australia) and thus there was some debate about how well it could adapt to practiced in Temperate climates. THis film dispenses with any such worries. In this documentary, we take a look at a case study of permaculture in rteh Austrian Alps, which is snowed over for much of the year. DEspite this, by using peramcultrue design and a lifetime's experince, the farm here produces abundant adn diverse yeilds, while attracting interest from people and resturants far and wide