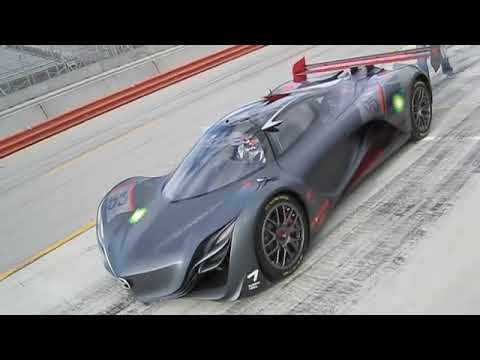 If only we could still rely on aerodynamics to make cars cleaner and more efficient. But it's no big secret that we're past that point. Still, automakers are forging ahead with super-charged gas-guzzlers like the Furai, and even though it runs on 100% ethanol (cleaner and more sustainable than dinosaur oil), it represents more of the gluttonous, fast-and-furious attitude that has brought the planet to the breaking point.
Mazda has packed all of its most recent gems into the Furai, including the Nagare body shape, the Courage C65 chassis, and a 3-rotor rotary engine — embodying Mazda's best "zoom zoom". Furai was pioneered on the racetrack, and according to Franz von Holzhausen, Mazda's North American director of design: "Furai purposely blurs boundaries that have traditionally distinguished street cars from track cars. Historically, there has been a gap between single-purpose racecars and street-legal models — commonly called supercars — that emulate the real racers on the road. Furai bridges that gap like no car has ever done before."
So, according to Mazda, there should be a few supercars out there? Well, I'm not exactly fond of racecars on the road, and to me, a "super" should have more to do with efficiency than looks and horsepower.
Furai means "sound of wind" in Japanese. Too bad it's not the wind of change.