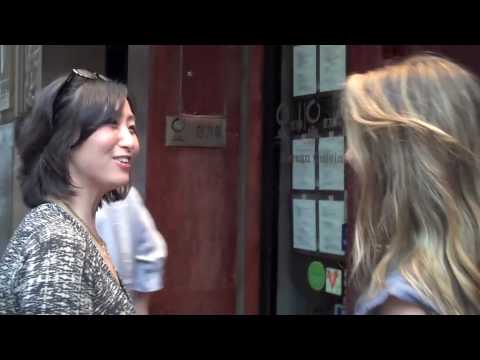 So, I am out trying to expand my horizons today. No, not in the real world, but online, I did a spin around the other green sites, which I haven't done in a long while. I have to tell you, I am pretty burned out on the standard green re-hash news headline sites. You know what I mean. Protest this, be upset about that.. so on. I lived that, believe me. I am over it. Now I just want to do things. Hands on, get down and start living. But yes, I am going off track, as usual. Like I was saying, I was out looking around online just to see what the usual suspects are posting about now, when I came across something new. A site by Alicia Silverstone. A newish site called The Kind Life with Alicia Silverstone. I don't know how long the site has been around, but I have to tell you, I was surprised to see it. The site is a bit like a vegan spin off of GOOP, by Gwyneth Paltrow. Not as polished but you can feel the same vibe going on.
She gets into all of her own "G" lifestyle things. Everything from her vegan dogs, to her new vegan recipe book, eco home decor and on and on. Yes, she is trying to sell you something, her book, but I think the site is about more than that. She seems to be pretty cool, down to Earth and definitely living an amazing "G" life. About the recipe book, I haven't seen it yet, but I did watch the behind the scene video from the photo shoot and that looked pretty good. I will have to put her book on my list. She even took the time to make the video I have posted above. In the video she takes us all along for a spin around the hottest vegan food spots in New York City. Some of the places she goes too, I never even heard of. It's been that long since I have been back to NYC.
(after the jump, video of Alicia explaining what the site is all about)
I am giving thekindlife.com a dark monkie wink. Didn't blow me away, but still very likable. If you are into Alicia or not, her site is worth checking out. She has bravely, in my opinion, opened up her life to the world, hoping a few of the zombie drones lurking around the web will some how get mesmerized by her shiny hair and smiling face and all of the sudden follow her down a kinder path. Oh if it was only that easy.
I say go bookmark it and check it out once in a while, its the least us Monkies can do. She seems to update the site regularly and from the best I can tell, she is the main blogger. Of course, I would prefer if Alicia just gave in, and became a full fledge Dark Monkie, saving me (us) the trip, but what is a Monkie to do. Not all "G" living people in the world want to enter the darker side of green. Maybe one of you out there, will be kind enough to whisper "gliving.com in her ear" and she will be so excited after seeing G Living, she will be breaking down our web door to be come the next official contributing author on G Living. You never know. Enjoy her video and site.