"I'm the dark side of green," says Jonathan JJ Hudson, designer of Noki – House of Sustainability. Which is weird because we here at G Living are also the darker side of green. Only we don't look like that. By "that" I'm referring to a look that seems at home on the streets of Harajuku — shredded heavy metal tees, roughed up taffeta dresses, defaced brand labels like Disney, Adidas and Evisu, as well as cut-out argyle knee highs, pantomime wigs and painted germ protecting masks — all of which were on display at London's Fashion East earlier this year.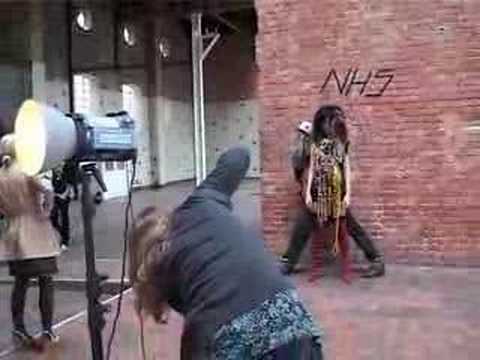 A little left field, certainly. But London is New York and Milan's edgy cousin, so it works.
Hudson, a club kid cum music stylist, goes by the name of Noki. That's Ikon backwards. He's an underground recycler or a "ragger", as its known in Old Blighty. His brand of customization is a statement against mass produced branded clothing. By re-working a second hand garment, he creates a one-off piece of clothing, a work of art even. As one fashion writer put it: "the message behind the House of Sustainability is corporate rage, urban tribalism and quite a bit of fun camp."
One could argue that this particular brand of couture merely serves up shock factor. That the designer is cashing in on freaking us out. But the thing with Noki is, his garments aren't for sale. The designer wants us to copy his work. So, you heard him — all of you out there claiming to be on the darker side of green, go get crafty with some scissors.
I guess that means me, too.