Want to see a house assembled before your eyes? Check out the above video featuring the installation of a NomadHome.
If you want more detailed information, you're either out of luck or in for a chuckle. If you believe the verbiage on the official NomadHome site (which is clumsily — and often hilariously — translated from what appears to be German), the NomadHome is "a home for the people of today", designed to provide flexibility in today's ever-evolving world, especially for those they call the "fleeing fledglings" and "part time settled mobile homers". Which I guess means this isn't the home for me. After all, I'm an accomplished fleer and I like my mobile homer settled full time. Video after the jump.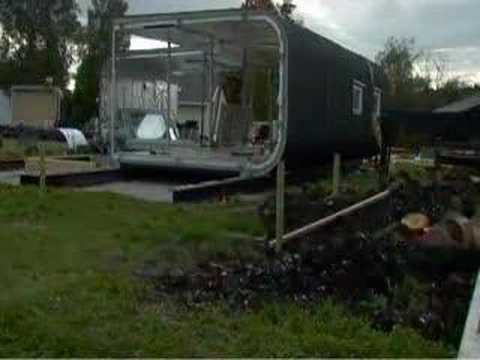 Seeing a need for adaptability and change, inventor Gerold Peham turned a "mobile foundation into a pan-Europe unique living concept". Comprised of 11 m2 modules that can be extended, exchanged or modified at the owner's whim, the NomadHome is chock full of ecological building materials and concepts and can be installed "on a building plot from as little as 200-300 m2, maybe not even bought but rented or leased." (Apparently the NomadHome is unavailable to squatters or those with borrowed land.)
Ranging in size from 44 m2 to 88m2m and featuring an "unlimited overall concept", this Austrian gem of a design will almost make you feel like you're living in a mobile Wexler – albeit a much more streamlined version. Intended for "innovative nomads" and "campus art student villages as well as for spirit of the age occupiers and innovative allotment gardens", the NomadHome seems to possess high quality standards: "Because of the conscious choice of materials we try to avoid the maintenance and renovation costs for decades. An exception is mechanical damage." Not sure about that last sentence, but I think it means they stand by their product unless a crazy mechanic causes damage by driving a large truck into it.
What about energy? "Thinking about the future energy resources, we are especially convinced that the best solution ecologically is electricity for the heating and cooling of the NOMADHOME in order to remain independent of fuels such as oil, gas, pellets, etc. Also electricity is available without complications, nearly everywhere and through ones own production."
Best of all, the NomadHome can be assembled or disassembled in a matter of days, which is a "simple, uncomplicated and solid project which won't incur extra costs and work for decades."
What more could you want? Especially if you're one "who looks into the subject of new trends and gives himself the chance, easily and at anytime to react to the social and economic development." That sounds like me to a T. At least I think it does.
For more delicious information, check out their site, which I'm sure allows freedom and stability for those within the wide ranging boundaries of those who feel the freedom to be free. Or something like that.
The NomadHome. Great design. Bad translation.